Obtain A Work Visa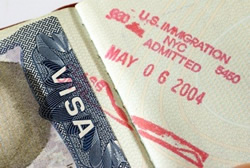 There are a number of different types of non-immigrant visas (NIV), and they range in duration from several days to as many as six years. Some NIVs must be applied for in advance through the United States Citizenship and Immigration Service and then reviewed and issued by the State Department. Other NIVs are reviewed by the State Department alone. An important distinction to make when considering NIVs is between the terms "visa" and "status." They are not the same, and confusion sometimes arises. The visa is an actual document applied for that gives the NIV holder a legal basis to come to the U.S. Status is granted to the NIV applicant when he or she reaches the U.S. border.
For example, for an H-1B temporary professional worker, the person has an H-1B visa that is physical document in his or her passport. Once the person shows up at the U.S. border with that visa and is admitted into the U.S., he or she is in H-1B status. The status is important because it is time-sensitive. A person may still have a visa in his or her passport but not be in the U.S. legally because he or she has stayed beyond the status duration granted. Status can be extended or changed by USCIS Service Centers in the U.S. as well as through U.S. consulates abroad. The different types of NIVs currently available are as follows:
1. Diplomatic Employees and their Households
2. Business Visitors (B-1) and Tourists (B-2)
3. Transit Visa (pass-through at airport or seaport)
4. Crew Member (air or sea)
5. Treaty Investors or Treaty Traders (from countries with whom the U.S. has a treaty of commerce and investment)
6. Students
7. Employees of International Organizations (IMF, UN, etc.)
8. Temporary Workers (professional, agricultural, temporary/seasonal, trainees)
9. Representatives of International Media
10. Exchange Visitors (educational, au pairs, professors, researchers, etc.)
11. Fiances and Fiancees
12. Intracompany Transferees (executives, managers, or having proprietary knowledge)
13. Language and Vocational Students
14. NATO Employees
15. Extraordinary Ability Aliens
16. Athletes, Entertainment Groups (e.g., orchestras) and Support Personnel
17. Cultural Exchange Visitors
18. Religious Workers
19. Criminal Informants
---
Serving Southwest Ohio clients in Cincinnati, Mason, Lebanon, West Chester, Montgomery, Hamilton, Middletown, Batavia, Wilmington and surrounding areas.
Warren County • Butler County • Hamilton County • Clermont County • Clinton County