Fight Deportation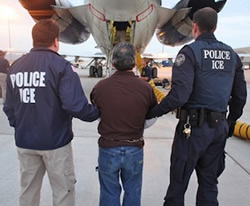 The Deportation proceeding is typically commenced by the Immigration and Customs Enforcement (ICE) of the Department of Homeland Security (DHS). A document entitled "Notice to Appear" (NTA) is issued and served on the person who is subject to the deportation proceeding. The NTA is to notify the non U.S. citizen to appear before an administrative (immigration) judge to explain the legal reason why they are entitled to remain in the U.S. One of the common reasons for ICE to issue an NTA is if they believe that the non U.S. citizen has committed crimes of "moral turpitude," aggravated felonies, assault, or other aggravated crimes, or if they are "out of status".
Both foreign nationals and legal permanent residents (LPR's) may be subject to the issuance of an NTA and may be subject to deportation. It is critical that you consult an immigration attorney before you enter any type of plea bargain agreement, because you may compromise important rights that you may not be aware of. We can help you deal with these legal issues, but you must act quickly to ensure that you have all the protections available to you.
Even after you have received a "Notice to Appear" (NTA), relief may be available, such as adjustment of status, waivers, suspension of deportation, cancellation of removal, asylum, withholding of removal, or withholding of removal based on the Convention Against Torture (CAT). If you have received a "Notice to Appear" (NTA) or if you are in deportation or removal proceedings, contact us now to discuss your specific deportation matter with an experienced attorney.
In the event that the immigration judge decides the case against you, you may file an appeal with the Immigration Board of Appeals. Such an appeal has to be filed within 30 days from the date the immigration judge issues his/her decision.
In the event that the appeal is unsuccessful, you may be eligible to file a petition for review in the Federal Circuit Court that has jurisdiction over your area of residence. Please be aware that there is a short time limit (30 days) in which to file such an appeal. Please consult with us immediately so we may be able to help you.
---
Serving Southwest Ohio clients in Cincinnati, Mason, Lebanon, West Chester, Montgomery, Hamilton, Middletown, Batavia, Wilmington and surrounding areas.
Warren County • Butler County • Hamilton County • Clermont County • Clinton County