Bankruptcy Allows You to  Eliminate Debt and Keep and Protect Your Assets
Stop Foreclosure
You can stop a foreclosure or a Sheriff's Sale and save your home though bankruptcy. ACT NOW before you lose your home.
Stop Garnishments
You can stop garnishments and eliminate the underlying debt through bankruptcy. ACT NOW, before the next garnishment.
Eliminate Tax Debt
You can stop the IRS collection and eliminate or reduce these taxes through bankruptcy ACT NOW before you lose your refund.
Save Your Assets
You can eliminate your debt through bankruptcy and keep your exempt assets. ACT NOW before you lose your retirement.
Bankruptcy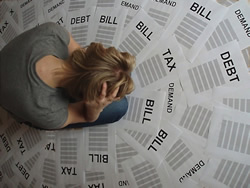 If you are reading this, then you are probably contemplating filing bankruptcy. But what does it mean to file bankruptcy? Bankruptcy filing can be generally defined as the legal process thorough which individuals or businesses who are in financial trouble are able to work out their debts or discharge them under the protection of the U.S. Bankruptcy Court, a Federal Court.
Even though bankruptcy falls under Federal Law, there are legal differences from State to State.
The United States Constitution at Article I, Section 8, authorizes Congress to enact bankruptcy laws. Congress has done so and Title 11 of the U.S. Code is the uniform law governing bankruptcies in the United States. Nevertheless, exemption law, contract law, local court rules, and other legal matters will make bankruptcy law vary from jurisdiction to jurisdiction. The information on this website is focused on Bankruptcy Relief in Ohio, but people who live in other jurisdictions might find the general information and concepts useful.
The Goal of Bankruptcy Is a Fresh Start
A fundamental goal of the federal bankruptcy laws enacted by Congress is to give debtors a financial "fresh start" from burdensome debts. The Supreme Court made this point about the purpose of the bankruptcy law in a 1934 decision:
[I]t gives to the honest but unfortunate debtor…a new opportunity in life and a clear field for future effort, unhampered by the pressure and discouragement of preexisting debt. Local Loan Co. v. Hunt, 292 U.S. 234, 244 (1934).
This goal is accomplished through the bankruptcy discharge, which releases debtors from personal liability from specific debts and prohibits creditors from ever taking any action against the debtor to collect those debts.
Bankruptcy Chapters Available
For individuals or married couples considering a bankruptcy filing, there are basically two chapters of the Bankruptcy Code available to them: Chapter 7 and Chapter 13. In rare cases, Chapter 11 may also be appropriate for an individual debtor, but these situations do not occur often so the focus should be primarily on Chapter 7 and Chapter 13. To be eligible for a Chapter 7, you must at a minimum pass a means test.
Bankruptcy Allows You to Keep and Protect Your Assets
A Bankruptcy filing does not mean that you will lose your assets such as your house, car, or retirement accounts. In most cases, an appropriate remedy can be found in bankruptcy that will allow you to keep these assets and, in the case of a house or car, pay for them following bankruptcy.
If you are behind on your house or car payments, and your want to keep these assets, a Chapter 13 bankruptcy will allow you to bring these payments up to date so that you are completely current up at the end of the bankruptcy process.
Bankruptcy Stops Foreclosure, Garnishment, Lawsuits, Sheriff's Sales, and Collections
The most powerful and immediate benefit of Bankruptcy is the Automatic Stay that goes into effect immediately upon the filing of a Bankruptcy. The Automatic Stay is an order of protection from the Bankruptcy Court that stops all collections efforts against you. Using this powerful tool, we can stop foreclosure actions, garnishments, lawsuits and collections letters and calls from creditors. We can even stop Sheriff's Sales, so long as the Bankruptcy is filed before the sale takes place.
---
Serving Southwest Ohio clients in Cincinnati, Mason, Lebanon, West Chester, Montgomery, Hamilton, Middletown, Batavia, Wilmington and surrounding areas.
Warren County • Butler County • Hamilton County • Clermont County • Clinton County